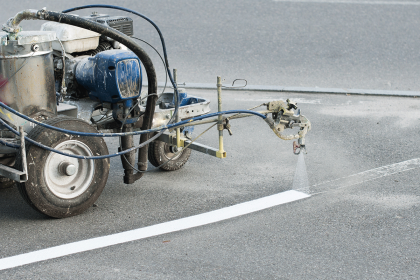 Caring for your parking lot or garage is a huge component of building maintenance. As mentioned in a previous post, it influences the first impression your customer has when they arrive at your facility. At Wahlen, we have over 40 years of experience keeping parking lots and garages in tip top shape and recommend the following schedule.
As often as needed:
The first step to keeping a lot or garage clean is to ensure the pavement is kept free of debris. Whether you manage a lot or garage, we recommend you have your pavement swept as often as you feel the need to. If you manage a lot, we definitely recommend doing a sweep after the leaves have fallen in the fall, before the first snowfall, and after winter once the snow has melted. While we love the changing colors of fall, once fallen leaves begin to deteriorate they can make your lot appear dirty. Similarly, a sweep and clean before winter can help ensure fallen snow doesn't get dirty from what's beneath it. Once the final snow melts, hidden debris may be revealed, so it's another great time to call Wahlen and get your lot ready for summer.
Twice a year:
We recommend pressure washing twice a year for more than just aesthetic reasons. A proper pressure washing will help preserve the concrete surface by removing contaminants such as oil, beverage spills, and most import, salt. If left to sit on a concrete surface, salt can penetrate the concrete, resulting in pitted surfaces and rusted rebar. When the steel rebar begins to corrode, the structural integrity of the concrete becomes compromised , resulting in cracked, uneven surfaces, and weakened concrete. Pressure washing on a regular basis can delay this process for years, preserving the investment that you've made in the concrete surface.
Every other year:
In addition to keeping your lot or garage clean, it's your responsibility to keep it safe for the drivers who will be parking in it. Ensuring you have clear and vibrant striping helps prevent confusion and keep drivers as well as pedestrians safe. Clear identification of handicapped parking stalls are also necessary requirements of the American with Disabilities Act. Not only does proper striping keep folks safe, it adds to the overall appearance of your building.
Every three years:
In addition to cleaning and striping, a well-maintained concrete lot or parking garage is sealed every 3-5 years. Concrete sealing is another measure of protection to help ensure your investment lasts as long as possible. Keeping up with your parking lot or garage maintenance schedule can be a lot of work, but that's where Wahlen comes in. Wahlen Works offers sweeping, pressure washing, striping, and sealing services and we take on coordinating these efforts so you don't have to. Contact us today to learn what we can do for you.