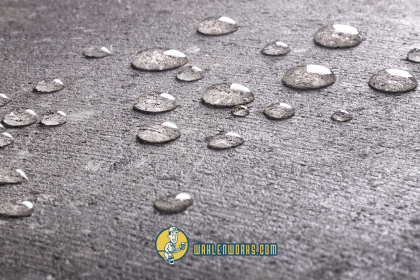 Water is the enemy of your parking structure. It can penetrate the concrete causing costly damage to its steel reinforcement. Considering the large capital investment parking structures require, it's worth taking some time to consider how best to protect them, not only from water, but also from deicing agents and freeze/thaw cycles.
We believe that the best way to prevent concrete damage is to prevent water and chemical penetration in the first place through the use of a waterproof barrier. Membranes and silane sealant do provide some protection but have drawbacks that waterproofing does not.
For that reason, we recently partnered with Alchemco, manufacturers of the TechCrete 2500 Waterproofing system—a long-term solution that creates a waterproof barrier inside the concrete. 
TechCrete 2500 offers the following benefits:
It has no volatile organic compounds (VOCs). VOCs are "any compound of carbon, excluding carbon monoxide, carbon dioxide, carbonic acid, metallic carbides or carbonates, and ammonium carbonate, which participates in atmospheric photochemical reactions." In other words, emitted gases from certain solids and liquids. Because TechCrete 2500 is VOC-free, if the concrete structure is ever demolished, the concrete remains recyclable, which is good for the environment.

It is a penetrating solution that forms a calcium silicate gel which fills cracks and capillaries up to 2mm wide. Because it forms a subsurface barrier, it can't be chipped or scraped away by snow plow blades and it will continue to seal future cracks up to .04mm wide.

There's no need to close your parking facility during business hours in order to complete the installation. 

One of the best features of TechCrete 2500 is its longevity. It makes the concrete surface more dense which allows it to stand up to traffic from people and cars. It also has the best warranty in the industry ranging from 15-30 years depending on the current condition of the structure.

A TechCrete 2500 treated surface is easy and inexpensive to maintain, requiring only regular sweeping and a yearly pressure wash.  
Parking areas are a large capital investment. The longer they last, the greater the return on your investment. While the value of regular cleaning and maintenance can't be overstated, the best protection comes from not allowing the water to penetrate the concrete in the first place. Read more about our concrete waterproofing service here.