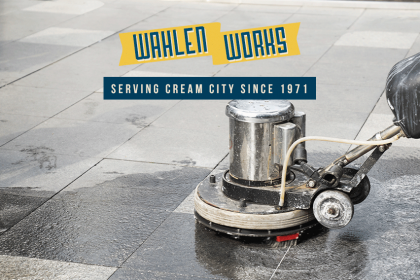 Few buildings experience more exterior wear and tear than commercial facilities and entities, including office buildings, parking structures, sidewalks, industrial equipment, and more. From dirt and debris to grease and graffiti, commercial facilities require special care to keep them looking nice for the many people who use them each year.
Learn more about the benefits of commercial pressure washing and why to choose Wahlen Works' high-quality pressure washing services.
What are the benefits of commercial pressure washing?
1. Increase the curb appeal and value of your building.
A dirty and unkempt building will leave a negative impression on all who enter your facility. This could also negatively impact future business, as people who would consider using your building may decide to opt for a cleaner facility elsewhere. Regularly scheduled pressure washing will eliminate this possibility and ensure your building has a good reputation and is viewed in a positive light.
2. Save yourself time and money.
When regular maintenance is performed on a building in the short term, you are saving yourself both money and time in the long run. Commercial buildings get much more use than residential properties, and people tend to not treat commercial buildings as nicely as they do their own houses.
If you don't keep up with cleaning your commercial facilities, they can get excessively rundown—and cost you much more to repair. A great example? In scheduling regular power washing sessions, you'll save money on other recurring maintenance costs, like not having to repaint the building's exterior as often.
Regular power washing will also allow you to more easily inspect and assess any other potential damage or repairs by being able to see each element (siding, windows, walkways) more clearly. Commercial power washing should also include the roof, in order to better repel heat and water, as well as prevent roofing material decay.
3. Improve building hygiene.
Say goodbye to nasty dirt, mold, and bacteria! Particularly with mold, don't give black mold an opportunity to grow at its leisure on the outside of your facilities. Mold and spores release toxins that contribute to building decay—dissolving materials over time.
Against power washing, however, black mold and other dirt and grime don't stand a chance, extending the life expectancy of your building. It also guarantees that less contamination, brought into your building unknowingly by employees and customers alike, occurs—keeping everyone healthier and happier.
4. Don't forget the sidewalks!
Your building itself is one thing, but what about the sidewalks outside of it and leading into it? Sidewalks can get disgusting over time—everything from old, smushed gum to garbage stains and general dirt. A clean facility will also only get you so far if the sidewalks outside of it are so gross that people would rather avoid your building altogether. Commercial pressure washing your sidewalks will remove even deeply set-in stains and leave them looking as good as new.
How Wahlen Works can help
It all started with pressure washing for us—over 50 years ago. Here at Wahlen Works, we have the knowledge and experience to offer high-quality commercial pressure washing services for the following:
Industrial complexes
Business storefronts, entryways, and walkways
Signage and awnings
Gutters and downspouts
Truck and trailer fleets
Roadways and ramps
Parking lots
Outdoor restaurants (including commercial patios and decks)
Valet and foyer areas
Government buildings
Delivery truck bays
Industrial equipment
We use hot water pressure washing units and have experience in using a variety of different chemicals to obtain the best results. The environmental impact of the work that we do is always at the forefront of our minds, which is why we have the equipment to recover wastewater and other measures to minimize said impact.
Are you interested in Wahlen Works' pressure washing services? Get a free quote for your commercial facilities today!