Pavement Marking
Tuesday, 05 February 2019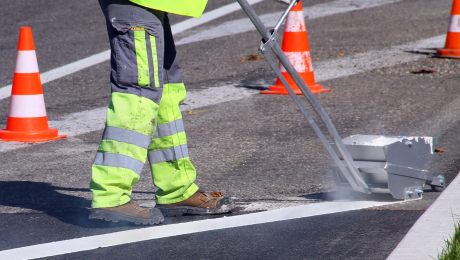 If you're a commercial property owner, a parking lot with freshly painted, clearly marked lines is almost as good as the smell of a brand new automobile. But that freshly painted look is hard to remember after a long winter of snow and snowplows, when your parking lot striping is as faded as a ten-year old car. In addition to the pleasure of a new-looking lot, your customers' convenience and safety depend on the clarity and visibility that a professionally striped parking lot provides.

So how do you get that "new car feel" for your old parking lot?

First, you want to ask yourself a few questions. "Does the traffic flow make sense to my visitors?" "Is the space used as efficiently as it could be? Am I compliant with all applicable regulations?" "Do I have enough upright signage for stopping, yielding, and pedestrian crossing?" "Can pedestrian walkways be clearly seen?" If the answer to any of the above questions is no, it's time to restore your parking lot to it's original showroom look.

Fresh parking lot striping will provide you with clearly marked parking stalls and bright, durable pavement marking. This means professional quality, crisp lines measured precisely and painted to the required thickness. It includes pedestrian walking spaces, directional driving arrows, entrance and exit signs, handicapped parking spaces, loading and unloading areas, and unmistakable fire lane areas. In some instances, such as handicapped spaces and fire lanes, there must also be both marking on the pavement and on upright signs. 

Whether it is brand new asphalt, freshly seal coated, or existing lines that need to be re-painted, we do it all. We have the equipment and personnel to complete the work in your off hours so we do not interrupt your operations. Restoring your parking lot to it's original shine has never been easier. 
For a complete parking lot remodel, ask about including our power washing and concrete sealing services along with your parking lot striping job. You'll be proud of your property once again.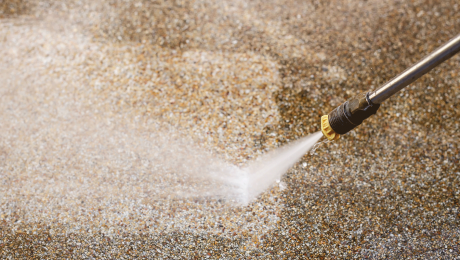 When a customer approaches your business, their first stop is often your parking lot or garage and the outside structure of your building. Like it or not, appearances matter. When public and private spaces aren't clean, visitors can get the impression that a place is neglected. Seeing that the outside of a business is neglected may give visitors the impression that the owner neglects other aspects of their business as well. A neglected space can even be interpreted as an unsafe space, and this isn't a completely baseless assumption by visitors. A recent study done in England found that poor levels of cleanliness are often associated with increases in other low-level crime and social disorder. As a business owner, you don't want these subconscious thoughts to run through the minds of your customers. At Wahlen Works, we specialize in helping businesses give the best first impression to their customers.
Pavement Marking
From the moment that a customer drives into your parking lot or structure, they should be able to easily determine where to park. Keeping up on your pavement marking and parking lot striping can help reduce the tiny amount of stress drivers may feel when looking for a parking spot.
Pressure Washing
When customers step out of their car, you want to ensure that they're not stepping on dirty or stained pavement. Again uncleanliness can be associated with neglect in the consumer's mind. So you want to show that you take care of your business, like you'll take care of whatever need they may have. Regularly pressure washing your parking facility is one small way to show that you care.
Concrete Sealing
Lastly, maintenance is everything. If you have a concrete structure or concrete pavement, concrete sealing is one way to help ensure the pavement lasts and your pressure washing jobs last longer, as a quality sealant can help prevent staining. When you own a business, it's important to think about think about the customer's experience from the moment they pull up to the moment they leave. If you need help making sure that first impression is a great one, contact us today!