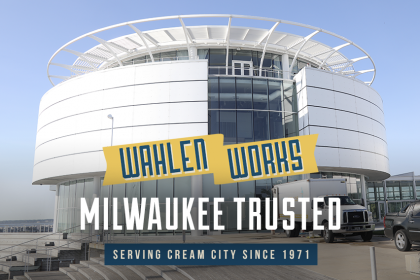 Founded more than 125 years ago in 1893, the Medical College of Wisconsin (MCW) was first known as the Wisconsin College of Physicians and Surgeons, only to later become the Marquette University School of Medicine in 1913. It officially became the Medical College of Wisconsin in 1970, and one year later, in 1971, the Wahlen Corp. was formed by Ted Wahlen. 
In the years since, Wahlen Works has become the caretaker of some of Milwaukee's most historic and distinctive properties—earning the trust of facility managers, property managers, and general contractors throughout Milwaukee and southeastern Wisconsin. In addition to MCW, here are some of the Milwaukee landmarks we are proud to service and maintain.
Milwaukee Art Museum
Art got its start in Milwaukee in 1888 with Frederick Layton's art gallery in Cathedral Square. In that same year, the Milwaukee Art Association was established. Milwaukee's art collections and display facilities grew over the years, and the Milwaukee Art Museum celebrated its centennial in 1988. 
In 2001, the Quadracci Pavilion opened, with its movable, wing-like brise soleil becoming an instant Milwaukee icon. We are honored to be responsible for the care and maintenance of their stunning underground parking facility—one that has inspired a Porsche commercial and is the first impression most visitors have of the museum.
Discovery World
Discovery World started out in a basement, moved to the Milwaukee Public Library, and then shared space with the Milwaukee Public Museum, all before moving to its permanent home on Lake Michigan's shores in 2006. Situated near the location of Milwaukee's first cargo pier, it's our job to keep the decks and parking areas of this beautiful facility in pristine condition.
Columbia St. Mary's Hospital
Founded in 1894, Saint Mary's School of Nursing corresponds to Wisconsin historical marker #186, located on the grounds of the historic St. Mary's Hospital. This hospital opened in 1848, and its sister hospital, the non-sectarian Columbia Hospital, began operations in 1909. Both are located in Milwaukee's East Side neighborhood.
In 1995, the two hospitals merged, and Columbia St. Mary's Hospital was formed (now Ascension Columbia St. Mary's Hospital). Their new $417 million-dollar state-of-the-art facility opened in 2010. Wahlen Works ensures that its exterior and parking areas are pristine and safe for patients and visitors.
ASQ Center
You wouldn't believe it nowadays, but the ASQ Center was once a Gimbels department store, later to become a Marshall Field's. Built in the 1880s, the building was designed after Selfridges in London, England, but over time, it had deteriorated significantly before its eventual renovation in 2001. Today, the beautiful structure is part of the National Registry of Historic Buildings and stands proudly in the heart of downtown Milwaukee—a successful, 195,000-square-foot office building.
Northwestern Mutual
Northwestern Mutual has called Milwaukee home for 160 years. The company was born on March 2, 1857, known as the Mutual Life Insurance Company of the State of Wisconsin. By 1865, it had expanded into other parts of what is now the Midwest and changed its name to the Northwestern Mutual Life Insurance Company. 
In 2019, it was ranked #111 in the Fortune 500 list for revenue. Northwestern Mutual now occupies the Northwestern Mutual Tower and Commons in Milwaukee, as well as an 84-acre campus in Franklin. They also own the 7Seventy7 apartment high-rise on 777 North Van Buren Street. The Franklin location includes two parking ramps: one with four levels and one with six levels, a 1,625-stall structure. Wahlen Works handles the maintenance of both of those parking facilities and the external garage at 7Seventy7.
Garages of the Third Ward
The Historic Third Ward District is called that because 70 of the buildings within its 10 square blocks are on the National Register of Historic Places. They were built in a 36-year span after a fire destroyed 440 buildings in 1892. Today, the Third Ward is a must-see for visitors to Milwaukee.
"Its district of well preserved, large historic buildings, festival grounds, art galleries, theatre groups, eating and drinking establishments, and special events make it a unique attraction in the Milwaukee metro area," according to the City of Milwaukee's Department of City Development. We are as proud of the Third Ward as we are to maintain the vast majority of the garages in the district.  
The work Wahlen Works does each day takes us to some of the most recognized and iconic locations in Milwaukee. We do our part to maintain Milwaukee's historic properties, and we feel honored to do so. It's what it means to be Milwaukee trusted.
Know of another historic building that needs some TLC? Send them our way for a free quote!