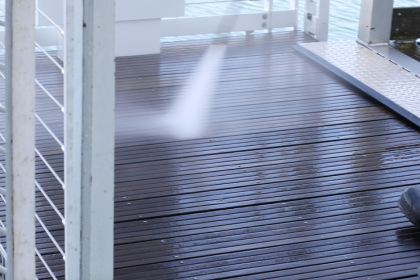 We write a lot about power washing on our blog because it gives your property more bang for the buck than almost any other monetary investment. Also known as pressure washing, it gives you a deep clean you can't get any other way. It removes accumulated layers of dirt and grime, no matter how long it has been since your property was last sparkling clean. Power washing can be used on pavement, walls, roofs, and equipment.
Deep, ground-in dirt can come from a variety of sources including natural elements, such as the weather, and the human presence on your property. This kind of dirt won't disappear by itself. The longer you go without a deep clean, the more difficult it becomes to get it looking like new again.
Professional power washing is an important part of all property maintenance. If you're a smaller business, you might be tempted to do it yourself, but that will likely be frustrating and a waste of time. If you're a larger business it's easy to forget to schedule this type of routine maintenance. But you don't want to be "that" business: the one with the dingy exterior that stands out in a bad way. 
In our travels around greater Milwaukee, we've observed 8 businesses that need more pressure washing than they currently have scheduled.
Warehouses.

 We know that warehouses are places where work happens which is why regular power washing of walkways, loading docks, and entryways should be a given. On top of that, there is the cleaning that needs to be done in between tenants. This should include pre-treating stains and spills, removing oil and grease, and sealing the concrete. 
Retail centers and shopping malls

. Since these facilities welcome paying guests year-round, we are always surprised when we see that exterior cleaning has been neglected. Shopping centers require parking lot maintenance that includes frequent pavement cleaning. 
Restaurants and hotels. 

If guests notice that exterior areas have been allowed to get dirty, what impression will that give them of the interior areas? The entrance, walkways, and parking lots are the most obvious place to start, but don't forget that dirty dumpster area. A professional power wash will give you the satisfaction of cleanliness and keep your guests' minds on their delicious meal or their good night's rest. 
Entertainment complexes.

 The remnants of people having a good time — such as peanut shells, gum, and anything with sugar in it — usually end up on the grounds outside the venue. After a few weeks of baking in the sun, only a professional power washer will be able to remove them completely.
Office buildings.

 Most property managers know that their office buildings need regular pressure washing. Still, it's surprising how long cigarette butts, empty beverage containers, spider webs, and last autumn's leaves can stay put. For heavily trafficked areas, power washing should be done monthly.
Apartment complexes.

 There are so many places in a residential community that can and do get dirty. Parking areas, stairways, and common areas are easily littered. If left too long, residential dirt has a compound effect because it's human nature to assume that if other people are lazy with litter, you can be too. When your business is to attract renters, you want your property looking like new.
Trucking centers.

 Most logistics centers and truck fleets are housed outdoors where they are subject to the whims of the weather. In these cases, the trucks need regular power washing as much as the facility does.
Gas stations.

 Most modern gas stations also have a decent sized convenience store that serves snacks, soda, and fried foods which are frequently spilled on the way to the car. Then there is the oil from the constant vehicle traffic. And if the station has a car wash, there is potential for even more dirt to accumulate on the property. Regular professional cleaning is the answer here too. Your customers will notice.
Professional power washing must be frequent, thorough — and most of all — scheduled. Give us a call to set up your regular pressure washing services today. We'll work around your schedule so that your business isn't interrupted. And you'll be very proud of your property.