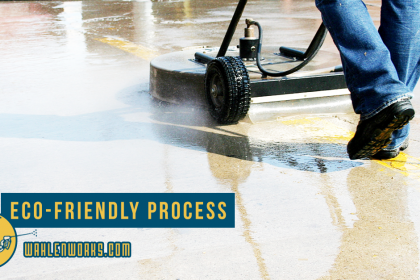 According to Greg Neiderer, Principal and Director of Restoration for Walker Consultants, a leading parking consultant in the United States, "Some parking facility owners and operators believe that as long as their structures continue to serve the public, few maintenance-related tasks need to be performed. Nothing could be further from the truth." In a case study of three Pennsylvania garages, Neiderer shows that the one with the most comprehensive maintenance history had the lowest cost per space per year.

Proper parking structure maintenance reduces premature deterioration and future operating costs. An important part of this ongoing maintenance is the cleaning and washing of concrete surfaces. Concrete is a porous surface that can absorb oil and other liquids like a sponge. Chloride contamination caused by deicing salt contributes to deterioration of the concrete as well. These substances need to be removed regularly. Professional pressure washing produces a deep, uniform clean that is both cost-effective and aesthetically pleasing. 

At Wahlen Works we specialize in full-service commercial pressure washing for businesses that have high standards of property maintenance and cleanliness. We accomplish this with a thorough, detailed four-step cleaning process that consistently provides superior pressure washing results.
First, we thoroughly go over the entire facility with pre-treating chemicals which are all biodegradable. We treat oil spots, beverage stains, and other dirt deposits. 
Second, we apply phosphate free, professional grade detergents to the entire surface of the garage. 
Third, we detail every square inch with a high pressure nozzle, providing a deep clean to lift out all of the dirt. In contrast to the surface cleaning used by some other companies, this is a close application to blast all the dirt out.  
Fourth, we drain the waste water. We use polypropylene filters over the drains which pull oil from the water and prevent debris from washing into the sewage system. At the end, we pick up everything and dispose of it properly. If your property requires waste water recovery, we provide that service at this time. 
When you hire Wahlen Works, you are investing in the longevity and appearance of your property. In addition to reducing overall operating costs, your facility will look better and make a better impression on visitors. Contact us today to get a quote on pressure washing services for your parking structure.