PolyCoat Concrete Floor Coating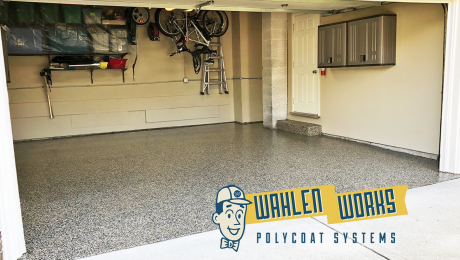 When you think about your dream garage, what do you imagine? A high-top bar in front of a wide screen and next to a beer fridge? Your vintage red Porsche parked on a showroom quality surface? A pristine floor underneath the wheels of your immaculate Harley?
The cure for garage envy starts with the floor. While your dream garage may eventually need insulation, climate control, and the best in high tech; without stunning, showroom-quality flooring nothing else matters.
But it's not just about looks. Garage floors take a pounding and have to hold up under the heavy demands of everyday use. You want a floor that is impervious to stains and spills from oil, gas, and other car fluids. With the Wahlen Works PolyCoat system, you can have both function and form; rugged durability and limitless chip, color, and top coat options. 
Concrete Floor Finish Process
The most important contributing factor to the success of a concrete floor finishing project is the preparation work. Our meticulous process ensures that you will enjoy your dream garage for years to come and we offer a lifetime warranty to back that up. Our 5-step process includes:
The initial inspection and project site assessment

Determining the products to be used and the color choices

Preparing the surface so that it is clean, sound, and dry

Patching and priming

Product and system installation
Assess
Most of the garage surfaces we see are deteriorating and have spalling and chipping.
Our process starts with the initial site visit where we assess the condition of the concrete and work with our customer to determine the desired end result. We check to see if the concrete is coated or uncoated and if the substrate is degraded. We measure contamination levels of grease, oil, and chemicals and we document all cracks and defects. Then we test the concrete to determine the moisture level because that determines which materials we will use. If the concrete has excess moisture we use a base coat that has a vapor barrier built into it. 
Color Options
From there we present an almost limitless number of color options, and we bring samples of the most popular ones so that the homeowner can get a first-hand idea of how the finished floor will look. Designer colors offer the ultimate "wow" and can achieve the look of granite, marble, or terrazzo if that's what is desired. When we come back to do the installation, we are ready to go and can complete the project in one day. 
Installation
On installation day, we start by grinding off the top layer of the concrete. We have a walk-behind planetary concrete grinder which is ideal for smoothing a garage floor and opening up the concrete at the beginning of the installation. In order to prepare the surface properly we generally remove 150-200 lbs of concrete from a standard 2-car garage. 
Next, we use a repairing compound to fill in areas that have chipped or spalled and make the entire surface smooth and even. Then we put the base coat down, followed by the vinyl flake color which the homeowner has previously selected. After it cures for a few hours, we put the top coat down. 
The differentiator in our service is thorough preparation. Every step in our process is important and we don't skip any or cut corners. There are several reasons that concrete coating systems fail: poor preparation of the surface, the amount of moisture not accounted for, and low quality coating products. Our process ensures that none of this will happen to you. 
Polyurea vs. Epoxy
Not all products for upgrading your garage floor are created equal. Our PolyCoat concrete coating system uses polyurea rather than epoxy. It is the best choice for your garage floor — hands down. Frankly, the two products are not even close in terms of quality, appearance and longevity. 
Polyurea is a two-compound, 98% solids basecoat. It is 20x stronger than epoxy and has 98% percent flexibility compared to 2% for epoxy. The higher solid content increases the long-term durability of the floor coating. The flexibility allows it to expand and contract where epoxy will crack and chip. Polyurea is UV stable so won't discolor with sun. It can be used outdoors and epoxy can't. 
The main advantage, and the thing that sets the polyurea concrete finish system apart from all others, is that it's a one-day install. You leave for work and when you get home, we're done. Epoxy garage flooring requires four to seven days to complete, during which time your garage is unusable.
The cost of using epoxy is less upfront, but when your epoxy floor starts to look worn again in a few years, the disappointment will set in. You want your stunning new floor look to last for years. Isn't it better to spend a little more and know that you're getting the best product and expert installation? 
Benefits of a Premium Garage Floor Finish
In addition to the superiority of the product, there are a number of additional benefits of our PolyCoat system.
After installation, you can begin enjoying your new garage immediately.  By the end of the day, you can walk on it and, after 24 hours, it's ready for vehicles. After-care instructions for some floor coating installations read like a complicated user manual — do this for 12-24 hours, then do this for 1-2 days, and finally do this for 3-7 days. With our floor system, you won't need to download a pages-long care guide to avoid damaging your new floor. 
Furthermore, maintenance is a breeze. The product is resistant to oil, gas, coolant, salt, abrasion, and impact. It maintains its high glossy finish and can be easily cleaned with water and a sponge. The finish also protects your floor from Wisconsin's freeze-thaw cycle and winter deicing chemicals. 
Most importantly however, a PolyCoat concrete floor finish adds to the value of your home at the same time it adds to the beauty of your garage. The modern look of a high-quality floor coating is certainly a nicer look than damaged concrete and it will make your garage and entire home stand out to prospective buyers. 
Why Wahlen Works?
We know concrete.
Our track record as a company testifies to the truth of that statement. Other companies can offer lifetime warranties but they may not be in business long enough to make good on their promise. We have been a trusted service provider in Milwaukee since 1971 — almost 50 years.  We are going to be here from the moment you make your first call until the moment you sell your house. 
Additionally, you can count on your new PolyCoat garage floor to last at least 25 years. We offer a lifetime warranty and if you sell your house within the first year after coating, we will transfer the warranty to the new owners. 
Let luxury be the first experience you have when you come home at the end of the day. A high performance PolyCoat concrete floor finish gives you the dream garage you've always wanted. Our product and process give you beautiful finishes and durable, long-lasting performance. Don't settle for anything less than the best.