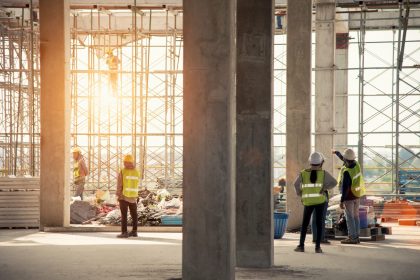 Those from the Midwest—or who have lived here long enough—know, there are only two seasons in this part of the country: winter and construction. Once all the snow has melted and the warmer weather is here to stay, construction season begins, including road repair.
Meanwhile, over at Wahlen Works, we'll be busy pressure washing to clean parking structures, remove graffiti, and tidy up your favorite sidewalks and walking paths, so you can start summer off right. We also handle pavement and ground marking services—ready to get the area's parking lots, roadways, event grounds, and more ready for you to enjoy.
Both old and new builds will be keeping all of us plenty busy in 2021, but here's some more information on what types of new construction you can expect in and around Milwaukee this year.
COVID-19 relief plan for highway projects
In Wisconsin, there is a backlog of road improvement projects to be done, as reported by Wisconsin Public Radio (WPR), and thanks to a COVID-19 relief plan passed in late 2020, the state is set to receive "nearly $150 million in the next two years," which "will allow the state to complete 42 highway projects," largely made up of bridges that need to be repaired or replaced and highways that need to be resurfaced.
"The funding was able to fill in for the lost revenues we had (in 2020) because of gas tax revenues being lower than usual due to decreased traffic," said DOT Secretary Craig Thompson in the aforementioned WPR article. "It allowed us to not only not have to cut back on projects, but to advance 42 projects earlier than was previously anticipated."
Construction continues for Komatsu Mining
In their new headquarters in the Harbor District, Komatsu Mining Corp., a company that both manufactures and services industrial mining equipment, expects to have employees in-office this fall, with full occupancy to come in spring 2022.
The three-story office building on Greenfield Avenue is still currently under construction and "connects to a two-story lab and two-story training building and museum, with all three structures totaling 176,000 square feet," according to the Milwaukee Journal Sentinel.
Next door, the 430,000 square foot manufacturing building is starting to take form, as well. The "project will include a 650-stall parking structure, a 250-space parking lot, and a public RiverWalk," too.
Future construction plans for the city
Come 2022, construction for the approved $420 million expansion on the Wisconsin Center, a convention center in downtown Milwaukee on Wisconsin Avenue, is set to begin—although prep work may start as early as July 2021.
According to the Journal Sentinel, "the project will add 112,000 square feet to the facility's main exhibition hall for a total of 300,000 square feet," which will allow the Wisconsin Center "the ability to host two major events at the same time." The expansion also includes the addition of a second ballroom, outdoor terrace, meeting rooms, indoor parking, and loading docks.
Take advantage of the summer months to have Wahlen Works clean up your space! Get a quote today for commercial pressure washing and striping.