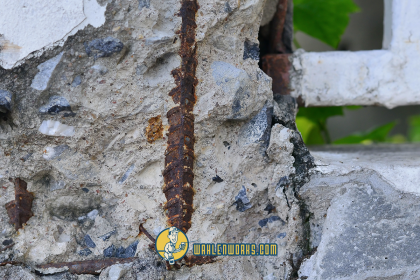 We talk about chloride contamination frequently because of the damage it can do to concrete that isn't properly maintained. 
Chloride contamination comes from rock salt, the primary deicing agent used in Wisconsin. Rock salt is the mineral formed from sodium chloride. WisDOT uses an average of 526,000 tons of rock salt statewide each season. Other chloride-based deicers used less frequently are calcium chloride and magnesium chloride. All chloride deicers will initiate corrosion of the steel reinforcement if they penetrate the concrete.
Implications for Parking Garages
A major contributor to parking garage deterioration is corrosion of embedded steel. The corrosion problem is not new, but awareness of the problem has been getting more attention in recent years. 
As steel corrodes it expands, causing fragments of concrete to chip away, which exposes steel further, leading to even more damage. In addition, the rebar becomes more easily breakable, which in turn reduces the garage's structural capacity. Unfortunately, by the time the damage is discovered, the corrosion of the steel is usually quite advanced. 
To put it more scientifically, "There are two consequences of the corrosion of steel. First the products of corrosion occupy a volume several times larger than the original steel so that their formation results in cracking…This makes it easier for aggressive agents to ingress towards the steel, with a consequent increase in the rate of corrosion. Second, the progress of corrosion…reduces the cross-sectional area of the steel, thus reducing its load-carrying capacity."
Reducing Chloride Contamination
There are a number of ways to lessen concrete deterioration due to chloride contamination and reduce its influence on the service life of your facility. Some, such as adding corrosion inhibiting compounds, need to be implemented during construction. For an existing structure, protection is your best option. 
In a 2018 paper published by engineers at the University of Wisconsin – Platteville, the authors recommend the use of a penetrating solution as one option. They say, "Another method to protect concrete from deicing/anti-icing chemicals is the application of topical treatments such as penetrating sealers. Penetrating sealers can seal the concrete, hence reduce the ingress of water and chemicals."
In the spring, when the ice and snow have melted, many property owners will be greeted by the sight of blemished concrete where the surface has flaked off. As bad as that is, the unseen damage to the steel reinforcement has also likely begun and may not be noticed until it's become expensive to repair. Before that happens, consider applying a waterproof barrier to your concrete structure.