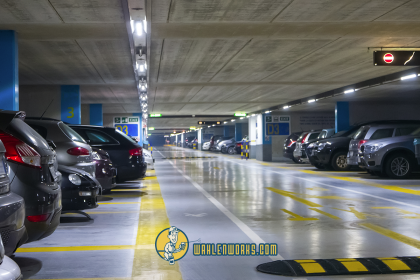 In an obscure court case over an alleged breach of lease in St. Louis, the judge ruled, "to the extent defendants based their breach of lease claim on central parking's alleged obligation to repair deterioration…to the garage's concrete surface before the end of the lease term, the court finds in favor of defendants". 
Further down the page, discussing a different example of deterioration, one engineer said, "It's a classic case of garage neglect, where the operator has failed to protect the decks with a sealer or coating and has allowed water to infiltrate the deck, rusting the rebar mats and (probably) the post-tensioned cables. The rust on the bottom mat steel has resulted in spalling concrete and general degradation, resulting in loss of deck strength and homogeneity."
If you own a parking garage, preventative maintenance can save a small fortune. 
One form of preventative maintenance is concrete sealing and it's one of the best returns on investment you'll find. Last month on this blog we wrote about chloride contamination in concrete and this month we'll address preventing that contamination and deterioration with concrete sealing.
To prevent degradation in your concrete, you need to prevent water, salt, and waterborne chemicals from penetrating its surface. A high-quality, professional sealant blocks the pores of the concrete, preventing these damage-causing elements from working their way under the surface and attacking the rebar. 
Our silane sealer is 100% solids, compared to the sealers you can buy in most home improvement stores which are about 40% solids. It's been tested by time, having been in use now for 40 years. The small molecular size of the product enables silane to penetrate deeply into the pores of substrates but does not change the appearance or vapor permeability of treated surfaces. 
In addition to parking structures, this silane sealer can be used to protect buildings, roads, balconies, plazas, and vertical surfaces. It's approved by the USDOT for sealing bridge decks. It is quite simply, the best product you can use to protect your property. Our sealer forms a permanent chemical bond, stops freeze-thaw damage and spalling, is not susceptible to ultraviolet or chemical degradation, and is cost-effective.
Don't neglect the preventative maintenance of your garage. A comparatively small investment now could save tens of thousands of dollars or more down the road. Our concrete sealing service also comes with a 5-year warranty, giving you confidence in the wisdom of your investment.