Our Latest Blog Posts
According to Greg Neiderer, Principal and Director of Restoration for Walker Consultants, a leading parking consultant in the United States, "Some parking facility owners and operators believe that as long as their structures continue to serve the public, few maintenance-related tasks need to be performed. Nothing could be further from the truth." In a case study of three Pennsylvania garages, Neiderer shows that the one with the most comprehensive maintenance history had the lowest cost per space per year.

Proper parking structure maintenance reduces premature deterioration and future operating costs. An important part of this ongoing maintenance is the cleaning and washing of concrete surfaces. Concrete is a porous surface that can absorb oil and other liquids like a sponge. Chloride contamination caused by deicing salt contributes to deterioration of the concrete as well. These substances need to be removed regularly. Professional pressure washing produces a deep, uniform clean that is both cost-effective and aesthetically pleasing. 

At Wahlen Works we specialize in full-service commercial pressure washing for businesses that have high standards of property maintenance and cleanliness. We accomplish this with a thorough, detailed four-step cleaning process that consistently provides superior pressure washing results.
First, we thoroughly go over the entire facility with pre-treating chemicals which are all biodegradable. We treat oil spots, beverage stains, and other dirt deposits. 
Second, we apply phosphate free, professional grade detergents to the entire surface of the garage. 
Third, we detail every square inch with a high pressure nozzle, providing a deep clean to lift out all of the dirt. In contrast to the surface cleaning used by some other companies, this is a close application to blast all the dirt out.  
Fourth, we drain the waste water. We use polypropylene filters over the drains which pull oil from the water and prevent debris from washing into the sewage system. At the end, we pick up everything and dispose of it properly. If your property requires waste water recovery, we provide that service at this time. 
When you hire Wahlen Works, you are investing in the longevity and appearance of your property. In addition to reducing overall operating costs, your facility will look better and make a better impression on visitors. Contact us today to get a quote on pressure washing services for your parking structure.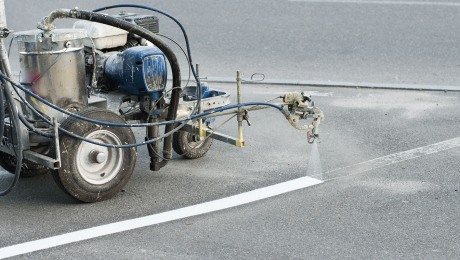 Caring for your parking lot or garage is a huge component of building maintenance. As mentioned in a previous post, it influences the first impression your customer has when they arrive at your facility. At Wahlen, we have over 40 years of experience keeping parking lots and garages in tip top shape and recommend the following schedule.
As often as needed:
The first step to keeping a lot or garage clean is to ensure the pavement is kept free of debris. Whether you manage a lot or garage, we recommend you have your pavement swept as often as you feel the need to. If you manage a lot, we definitely recommend doing a sweep after the leaves have fallen in the fall, before the first snowfall, and after winter once the snow has melted. While we love the changing colors of fall, once fallen leaves begin to deteriorate they can make your lot appear dirty. Similarly, a sweep and clean before winter can help ensure fallen snow doesn't get dirty from what's beneath it. Once the final snow melts, hidden debris may be revealed, so it's another great time to call Wahlen and get your lot ready for summer.
Twice a year:
We recommend pressure washing twice a year for more than just aesthetic reasons. A proper pressure washing will help preserve the concrete surface by removing contaminants such as oil, beverage spills, and most import, salt. If left to sit on a concrete surface, salt can penetrate the concrete, resulting in pitted surfaces and rusted rebar. When the steel rebar begins to corrode, the structural integrity of the concrete becomes compromised , resulting in cracked, uneven surfaces, and weakened concrete. Pressure washing on a regular basis can delay this process for years, preserving the investment that you've made in the concrete surface.
Every other year:
In addition to keeping your lot or garage clean, it's your responsibility to keep it safe for the drivers who will be parking in it. Ensuring you have clear and vibrant striping helps prevent confusion and keep drivers as well as pedestrians safe. Clear identification of handicapped parking stalls are also necessary requirements of the American with Disabilities Act. Not only does proper striping keep folks safe, it adds to the overall appearance of your building.
Every three years:
In addition to cleaning and striping, a well-maintained concrete lot or parking garage is sealed every 3-5 years. Concrete sealing is another measure of protection to help ensure your investment lasts as long as possible. Keeping up with your parking lot or garage maintenance schedule can be a lot of work, but that's where Wahlen comes in. Wahlen Works offers sweeping, pressure washing, striping, and sealing services and we take on coordinating these efforts so you don't have to. Contact us today to learn what we can do for you.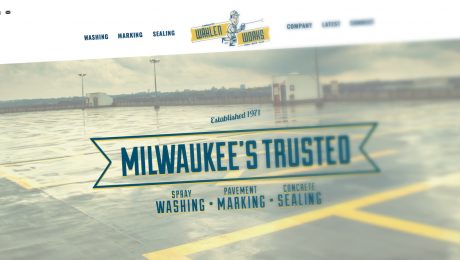 Wahlen Works has launched an all-new website! The company has released the new site in celebration of the complete rebrand of Wahlen Corp. Wahlen Works offer a variety of services focused around pressure washing, pavement marking, and concrete sealing throughout the Southeastern Wisconsin area. The project has been in long anticipation. Wahlen Corp. contracted local creative agency Concept Envy Advertising to complete the online transformation. The new website includes a complete redesign from head to toe. Customers can now easily find service-related content and gather the necessary information for upcoming projects, the latest Wahlen news, blog content, and upcoming events. The new web presence also provides useful features including an online chat, interactive live social feeds, and contact forms. To check out the new website and learn more about Wahlen Works head over to https://wahlenworks.com