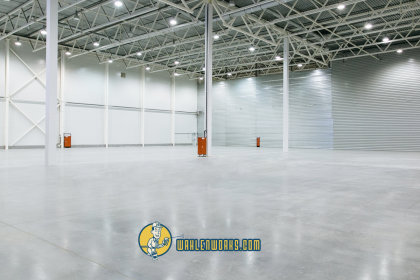 The use of hard surface floors is on the rise in commercial establishments. Concrete has always been a popular choice for warehouses and garages. In addition, it is becoming trendy for lofts, office buildings, and shared workspaces. There are a lot of reasons for this, including economics and aesthetics. The concrete is already there so there is no additional expense from covering it with wood, carpet, or another material. Furthermore, when properly sealed, the natural, rustic beauty of the concrete is enhanced.
Concrete is porous and so it needs to be sealed to prevent stains and increase its lifespan. There is a lot to know about properly sealing an interior concrete floor, which is why we believe it's wise to hire a professional. It is demoralizing to spend all that time, energy, and money only to have bubbles, blotches, and dull spots. Because of the rough nature of the surface of concrete, sealer that is not applied properly won't look good.
Before sealing your concrete floor, it must be prepared properly. If the concrete is rough, grinding, densifying, and polishing needs to be done. Next, all dust, dirt, and debris must be removed. Any spills, stains, or wax must be thoroughly cleaned with a product designed for concrete so that the sealant will adhere. During this phase, we can also dye the concrete to enhance the decor and design. Then the floor must be rinsed and allowed to dry completely. Incomplete drying will trap moisture under the sealant.
After repairing cracks, the floor is ready to be sealed. It's important to select the correct sealant. This varies based on whether or not the floor has been painted or stained or has had design textures applied during installation. The product must also be formulated for interior use. A different sealant is used for concrete warehouse floors than is used for concrete office floors. The interior space needs to be well ventilated during this part of the process and the floor needs to be allowed to dry completely before it's ready for foot or vehicle traffic.
Another thing to keep in mind is the age of the concrete floor. A relatively new floor requires a different type of preparation than an older one.
Floor Sealing Questions
When you contact us to have your concrete floor finished and sealed, we'll have some questions for you.
Where is the floor located (warehouse, office building, etc.)?
How old is the floor?
Is it painted or intentionally stained?
Was the concrete finished with any type of design.
Are there accidental stains which need to be removed?
Has the floor been sealed before? If so, how long has it been since the previous application?
How much traffic does the floor have to bear?
At Wahlen Works, we know which type of sealer and process you'll need for your particular floor sealing project in order to increase it's life and enhance it appearance. A properly finished and sealed concrete floor can last for years before it needs to be treated again. Contact us for an
estimate
today.