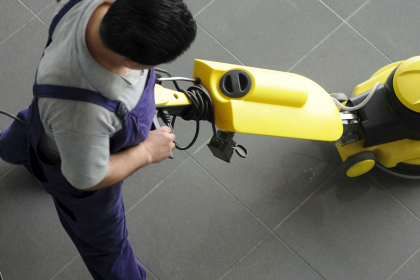 2019 is almost over and 2020 is just around the corner. Here is the cleaning and maintenance you need to be thinking about when it comes to keeping your facilities in top shape throughout the next year.
January through March
During our long Wisconsin winters, property owners want to minimize unnecessary damage to their property and also keep drivers safe. It's best for the longevity of your concrete if you simply remove snow with a plow. If you're worried about a slick ramp, you can use sand. If you must use a deicing agent use a chemical, such as calcium magnesium acetate, that won't damage the concrete or steel reinforcement.
When the weather gets bad outside, it's a perfect time to clean an polish your Indoor concrete floors. They are porous and need to be sealed to prevent stains and last longer.
Once March arrives, spring is just around the corner and you can begin to think about spring cleaning. It's a great time to consider a complete service package for your property which includes sweeping,
power washing
,
pavement striping
, and
concrete sealing
.
Now is the time to check signage for damage from corrosion or vandalism so that the signs can be cleaned or replaced if necessary. Inspect walkways, handrails, stairwells, and walking surfaces for hazards. If your stairwells and elevator enclosures are dirty, add them to the list of places to be cleaned.
April through June
The first thing to think about in April is a thorough sweeping of your entire facility to remove sand and dirt from parking and pedestrian areas. Then it's time for deep cleaning and protecting with power washing and concrete sealing.
Pressure washing
Pressure washing gives instant aesthetic improvement to your property — a deep clean you can't get any other way. It removes accumulated layers of dirt and grime, chemicals, and especially salt — even if it has been a long time since the last cleaning. Power washing can be used on pavement, walls, roofs, and equipment.
Concrete Sealing
Sealed concrete lasts longer, looks better, and resists staining. Water penetration is damaging to roads and to masonry walls. To maximize the life of your structure, it is very important to keep water from penetrating it, which sealing does.
Finally, you will want to evaluate whether you need new pavement markings in time for summer traffic. Fresh, high quality pavement marking keeps vehicle and pedestrian traffic organized and moving smoothly which keeps everyone safer and happier. Removing dirt, oil, and grease with power washing will allow you to know if you need to re-stripe.
July through September
School's out for summer which means it's time for school (and park) improvements such as painting your playground for sports and other activities. Whether it is a basketball court, a kickball diamond, a hopscotch track, or a foursquare space, we can provide an expert layout.
Summer is also time for Summerfest, the Wisconsin State Fair, and dozens of other local festivals and activities. With all this fun comes extra food and oil spills. By August you may need your second pressure wash of the year. We also recommend ongoing maintenance like monthly sweeping and removal of graffiti from concrete and masonry surfaces.
By September, construction season is winding down. If you have a project nearing completion, schedule your post construction clean up early so you're not left with potential hazards on your property.
October through December
Once we pass the fall equinox, it's time to prepare for winter.
First remove leaves. Their chemical composition can  damage the surface of your concrete or asphalt. A professional sweeping will clear leaves and debris from places where water needs to flow freely. Then, inspect for damage to the concrete and perform repairs. Walk around all your snow plowing routes to ensure that they are unobstructed.
We recommend a second pressure washing in the fall. Seal the concrete if you didn't do it in the spring. By the end of October, seal coating season is just about over.
Inspect lights for proper operation. A well-lit facility is safer for travel and feels safer to your guests, especially as the days get shorter and the nights get longer. Clean and replace lights as needed. Lastly, wash windows so that the maximum amount of that precious winter daylight can stream into your workspaces.